Beauty-case for him: best brands to shop
È tutto pronto per partire, tutto perfettamente sistemato nelle valigie… o quasi. Il tuo occhio cade inevitabilmente nel suo beauty-case, poco funzionale e magari scucito. Le probabilità che la cera si apra e incolli a sé la crema, lo spazzolino e il dentifricio sono molto alte.

Everything is set up to leave, everything is perfectly fitted in suitcases… or almost. Your eye goes inevitably on his beauty-case, not functional and maybe unsewn. The odds that hair wax will open up and will stick together face cream, toothbrush and toothpaste are really high.

Perciò andiamo a vedere insieme i migliori brand per acquistare un bel beauty-case per lui per il prossimo viaggio.

So, let's got to see together the best brands to shop for a good beauty-case for him for the next travel.
Beauty-case for him: LANCEL (€€€ – $$$)
Decisamente elegante, compatto e dal taglio classico. Il beauty-case di Lancel può essere un regalo per un grande appassionato di viaggi che non rinuncia ad avere gli accessori ricercati. 

Definitely elegant, compact and classic. Lancel beauty-case could be a perfect gift for travel addicted who doesn't give up on polished accessories.

Beauty-case for him: THE DAILY EDITED (€€ – $$)
Di dimensioni più piccole rispetto a LANCEL, il beauty-case di The Daily Edited è realizzato in pelle con un modello decisamente classico. La nota veramente carina è che sono personalizzabili con le iniziali. 

More little than LANCEL one, The Daily Edited beauty-case is made from saffiano leather with a classic style. A very cute note is that you can customize it with initials.
Beauty-case for him: TOMMY HILFIGER (€ – $)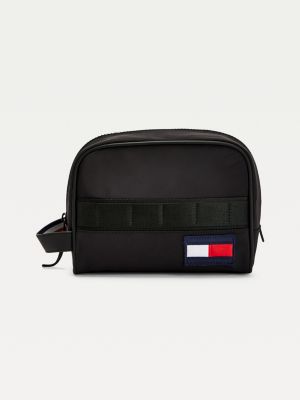 Tip numero 1: è in saldo. Tip numero 2: la puoi portare in valigia, nello zaino o nella 24 ore. Dal taglio sportivo e pratica da utilizzare, la pochette di Tommy Hilfiger è un'alternativa economica valida.

Hint number 1: it's on sale. Hint number 2: you can bring it in a suitcase, in backpack or carry-on. Sporty and functional, Tommy Hilfiger pochette is an affordable solution. 
Personalmente adoro quello di The Daily Edited perché offre vari colori e la possibilità di personalizzarlo. Qual è il vostro preferito? Fatemelo sapere nei commenti.

Personally, I love The Daily Edited one because it has different color options and you can customize it. Which one is your favorite? Let me know in the comments!